Step Into Spanish Books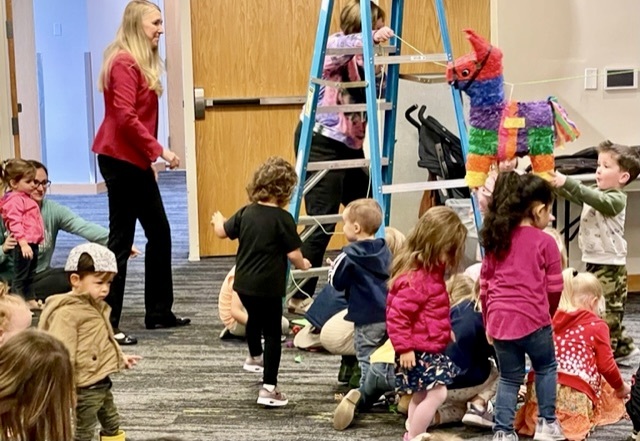 Learning a new language is a lot of fun. The new Step Into Spanish series allows children to learn simple Spanish vocabulary words through engaging story. Each book has it's own catagory focus. Have fun stepping into Spanish with Miguel and and his collection of crazy active pets!
Señor Picante Is My Red Fish
Reviews:
Delightful!
Miguels' pet fish has a colorful fishbowl. This bright and beautiful book is a FIN-tastic way of introducing Spanish color words, by following Señor Picante as he discovers all the colorful aspects of his fishbowl. You'll love wading through the pages and delighted by the snapper ending.
-Barnes and Noble Site
Reviewed By Rylanne Burdette for Readers' Favorite
The perfect book for children who are just learning how to read, Señor Picante is my Red Fish by Lori Ries follows a red fish in his little round aquarium, looking at all the colors around him. From red to blue to purple too, the story takes readers through the rainbow and includes how to say each color in Spanish. Señor Picante explores his home on each page, hiding in his orange shell, waking up to the yellow sun, and more. A quick but informative and entertaining book, Señor Picante is my Red Fish is a great read.
I took Spanish throughout high school, and I really like learning tools such as these to help me learn a bit of the language in a visual and fun way. The illustrations on every other page of this book were awesome to look at, and I enjoyed getting to follow Señor Picante around his little tank. I can imagine young children smiling brightly at the images throughout this book as they learn about colors. I would recommend Señor Picante is my Red Fish by Lori Ries not only to children who are just learning how to read but also to children who want to maybe start learning a little bit of Spanish. This book touches on the basics of colors and can be a great stepping stone to developing the language. This was a super great read and something that I would certainly collect a physical copy of someday to show to my own children.
In this picture book, a little red fish explores the colors of his home in English and Spanish.
Senor Picante is a red fish who lives in a fish bowl filled with colorful decorations, including a pink plant, orange shell, and
green castle. He is the pet of a brown-skinned boy named Miguel, who keeps the fish bowl next to his bed. Senor Picante
likes to play in his bowl and watch the sky as the sun sets and rises. But one day, the boy can't find Se or Picante. The
reason turns out to be that Senor Picante is actually a female fish, Senora Picante, and now has a rainbow of baby fish to
swim with. There is little text in the book, with very basic sentences about the hero's activities that include a color detail:
"Senor Picante swims in blue water" and "Senor Picante eats brown flakes." The color is then printed below in bigger text
in both English and Spanish. The work is part of the Step Into Spanish series to help kids build vocabulary skills, though
the thinness of the narrative suits children who are just learning to speak. Ries doesn't develop the relationship between
Miguel and the fish or show the two engaging with each other, so the surprise of the hero's gender may require an
explanation by parents. Law's illustrations are vibrant but come off stiff at times.
A vivid but rudimentary animal tale for children learning Spanish.
-Kirkus
Tater Tot is My Fat Cat
Reviews
Reviewed By Kristine Zimmerman for Readers' Favorite
Tater Tot is My Fat Cat by Lori Ries is a beginner reader in Spanish and English. It is part of the Step into Spanish series. The story is simple but very cute, with a surprise ending. Tater Tot is a very large cat who cannot run, jump, or climb. Tater Tot is very good at resting. The layout of the book is perfect for early readers, with one sentence per page. Each page also pulls out one word from the sentence and includes the Spanish word as well. For example, Tater Tot is my fat cat, followed by the word Cat and then Gato. Tater Tot is My Fat Cat is an uncomplicated story that will engage its readers.
Lori Ries has done a great job introducing basic Spanish words in a fun story. Tater Tot is My Fat Cat is a book that kids can read on their own but could also be used by adults just starting to learn Spanish vocabulary. The illustrations by Lara Law are full of texture. They are also quite humorous. My favorite picture is Tater Tot getting stuck in the kitty door/ Puerta. Beginner readers need to feel successful as they attempt independent reading. Reis has accomplished this by using clear, concise language and a little bit of repetition in Tater Tot's story. As a former children's librarian, our Spanish section was always in need of engaging new original stories like Tater Tot is My Fat Cat. I'm looking forward to seeing more titles in the Step into Spanish series!