Punk Wig
Same story, new publisher and illustrators.
The new Punk Wig still helps grownups talk with children about hard sicknesses like cancer.
Fun and funny, Punk Wig gives kids laughter, hope, and the power to cope.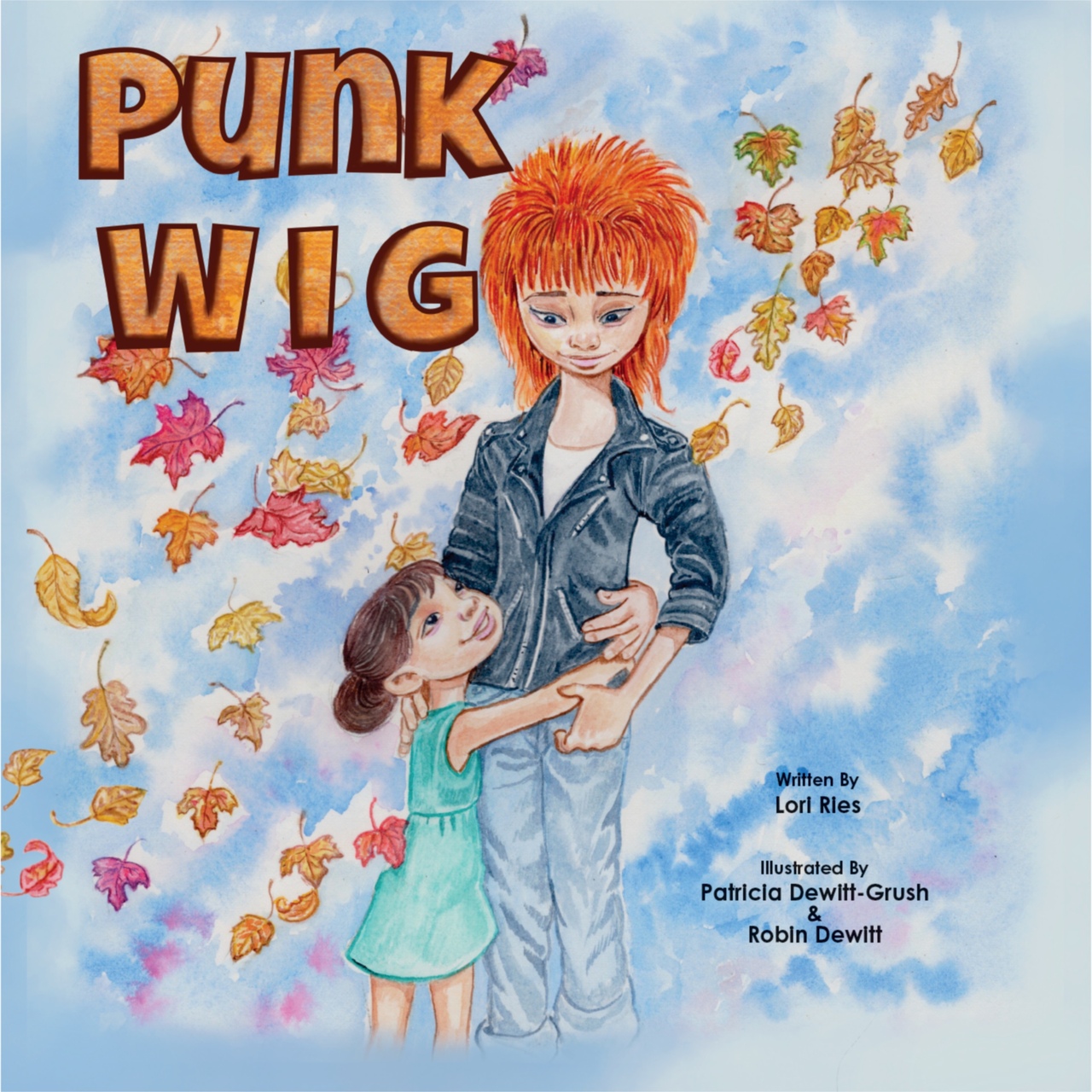 Reviews
Reviewed By Tiffany Ferrell for Readers' Favorite
In Punk Wig by Lori Ries, we are introduced to a little girl whose mother has cancer and who is going through treatment. She finds the hospital strange, with her mom hooked up to a lot of machines. Her mother tells her that the medicine they are giving her for cancer will make her lose her hair. When her mom is finally released, she noticed that her mom was very weak and tired a lot of the time. Finally, one day the mother felt well enough and decided that this was going to be the day she bought a wig. At the wig shop they come across many different kinds, but what both decide on was a crazy orange punk rock wig. Her mother wore it everywhere and wherever they went they got strange looks, but the two didn't mind. That crazy orange wig helped them get through a hard time in both of their lives.
Punk Wig is such an insightful children's book. Cancer affects so many people; it doesn't discriminate and it changes lives forever. The book brings to the fore this oftentimes touchy subject in a way that a young child could comprehend. They can relate to the little girl and since the main character is a child, it's easier for a young reader to see events through her eyes. Along with a great story, the illustrations are beautifully done and fit perfectly with the storyline. I thought Lori Ries has done a wonderful job in bringing this tale to life and I can't wait to read more of her work.



PUNK WIG
BY LORI RIES & ILLUSTRATED BY ERIN EITTER KONO ‧ RELEASE DATE: FEB. 1, 2008

Aserious illness is given a lighthearted and encouraging treatment as a young boy relates how his mother is undergoing chemotherapy for cancer. "She's going to the hospital to get the alien blobs zapped with medicine." Back home, he brings his sick mom a lunch tray with peanut butter and jelly and his favorite gorilla cup. When her hair starts to fall out, she announces that it's wig day. At Harriet's Hair, they both try on silly wigs and his mom chooses a long orange, spiky wig that she calls, "My Punk Wig." At the grocery store, everyone stares at his mom, wearing jeans and a black-leather jacket and sporting Punk Wig. During the winter they put Punk Wig on their snowman. By spring, mom's test results are good and she surprises the boy by giving him Punk Wig. Kono's watercolor illustrations convey a blithe touch and reflect the warm relationship between mom and son. This positive and upbeat approach to coping with cancer will be a welcome addition—younger than, but complimentary to Patricia Polacco's The Lemonade Club (2007). (Picture book. 5-8)
-Kirkus
No Time For Flash Cards Review
Punk Wig by Lori Ries is about as funny and cute as any book about cancer can be. In the book, a little boy explains that his mom has cancer. As she goes through chemotherapy and looses her hair, they go shopping for a wig. The wig she ends up choosing is a punk one that looks nothing like her hair before she lost it. The banter between mom and son is adorable. It explains cancer as "alien blobs" and chemo as "zapping " them with medicine. The overall feeling of this book is upbeat and even the parts where the mom is obviously sick have little bits of whimsy thrown in.
This is a good pick for preschoolers and for children curious about why a friend or acquaintance has lost their hair during chemotherapy. In this book, the mom goes into remission. It explains her recovery as all the alien blobs left and she gives her punk wig to her son for dress up.