Charlie and Emmet Snowy Day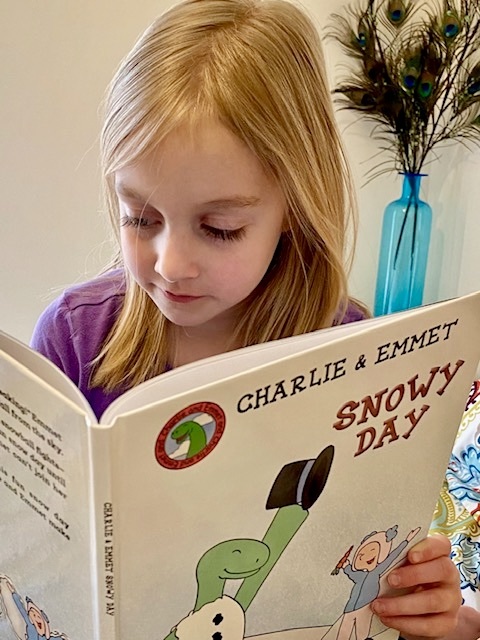 Reviewed by Amy Louise Hill for Readers' Favorite
Charlie and Emmet Snowy Day by Lori Ries is a fun and adventurous picture book for young children. Charlie wakes up with his dinosaur friend Emmet rocking his bed, yelling that everything is white outside. Charlie sees that it snowed but Emmet thinks that something bad is happening. Charlie quickly explains what snow is. Emmet becomes excited and the two of them head outside to play in it. They build snowmen and have snowball fights until they stumble across something even more exciting - a frozen lake to skate on! Charlie happily skates around the lake, but Emmet has a bit of trouble because of his size. Seeing that Emmet is so upset, Charlie tries to help him learn to skate safely. Will Emmet's wish come true? Find out in this entertaining book.
Charlie and Emmet Snowy Day will have children hooked from start to finish. The talented Lori Ries has done a great job at creating an amusing and wholesome book that children will enjoy. It's a story that you won't tire of, and the illustrations by Thomas Bender play a massive part in that. They are creative and colorful and will dazzle children from the moment they lay eyes on them. Emmet is now my new favorite dinosaur; he's so cool! I recommend this wonderful book to anyone with children who love dinosaurs and snow. For the best reading experience, I suggest reading it on a snowy day!
5.0 out of 5 stars I enjoy be joyful expressions of Charlie and Emmet!
Reviewed in the United States on December 20, 2022
I think that Charlie and Emmet capture the heart of so many children. The book takes the characters from the typical snow activities to surprises that are fun. It gives a chance for Children to giggle at some silly. It gives parents a chance to discuss how we could make things right when we make mistakes. Questions I would ask: How can we transition from joyful intentions -unaware of mistakes-to kindly becoming aware and making things right with people, in JOYFUL ways? I thought the pictures set up the stage for our fun moments and sharing family stories. How can we be a happier shop keeper? Sibling? There is a lot to talk about and keep us all smiling in the imaginary of more what ifs and discussing reality situations we have a hard time solving without role playing…Great book!
5.0 out of 5 stars enjoyable
Reviewed in the United States on November 16, 2022
The first time we read this to our 3 year old grandson he said "Again" when we were through.
He laughed out loud several times throughout.
5.0 out of 5 stars Who Would You Take
Reviewed in the United States on September 6, 2022
Who Would You Take?
Charlie has a great friend to take with her on the snowy day to play in the snow, shop for groceries, manage through some boring times and greet Dad at the end of the day. This friend livens things up, creates energy and asks lots of questions. Emmet is a curious dinosaur and Charlie likes exploring with him.
Three short chapters give variety throughout the snowy day. My 7 year old granddaughter is in the second grade but reads at a higher level, and she enjoyed reading it, because it had more words than many little children's books and she is ready for that.
Use your creative imagination to take with you on your next snowy day!
Teacher Kathy B.
5.0 out of 5 stars Thank You Lori
Reviewed in the United States on September 12, 2022
While reading this book to my little granddaughter, it opened the door to many fun and practical "discussions":
- Good eating habits (oatmeal for breakfast)
- Caution on thin ice
- Don't take things in a store without paying!
- Making a mess requires clean up & the one making the mess should do it!!
- You can solve many problems with creativity
Loved this book. The illustrations truly captured the imaginative story line.
5.0 out of 5 stars Adorable children's book!
Reviewed in the United States on September 6, 2022
My kids and I loved reading this new adventure of Charlie & Emmet! The illustrations are so cute and my 11 year old loved the style with multiple pictures per page. My 7 year old's favorite part is when Emmet learns to skate with shopping carts. Mine too! The author did a great job getting us excited to go play in the snow. My 9 year old took this book up to her room and has been reading it over and over. Love it!
5.0 out of 5 stars Cute children's book
Reviewed in the United States on September 6, 2022
It's a cute book that my littles (5 & 2) both really enjoyed. It's silly and fun! It's also a little longer in length than maybe what you'd think for a normal "childrens book" and broken into 3 small sub chapters, but it held my kids attention the entire time. And I appreciated the longer length, felt like you got more fun for your money!
5.0 out of 5 stars Great Ideas!!
Reviewed in the United States on September 6, 2022
It is definitely a fun book to read to kids.
Couple of ideas that you can do with family and friends, some are fun but some may turn out boring.
What I like the most in this book is that when Emmet learns skating in the store using shopping cart as his skates, I thought this is a brilliant and creative idea to help Emmet learned how to skate!
Another thing I like in this book is when Charlie tells a story to Emmet about what happened to Emmet while Emmet skated at the store that morning, that's when Charlie tells how she looked at this whole thing from her angle. I thought that is how we share something with friends or family because everyone looks at things differently, this is important to show kids about sharing and expressing themselves out.
Highly recommended!!