Aggie the Brave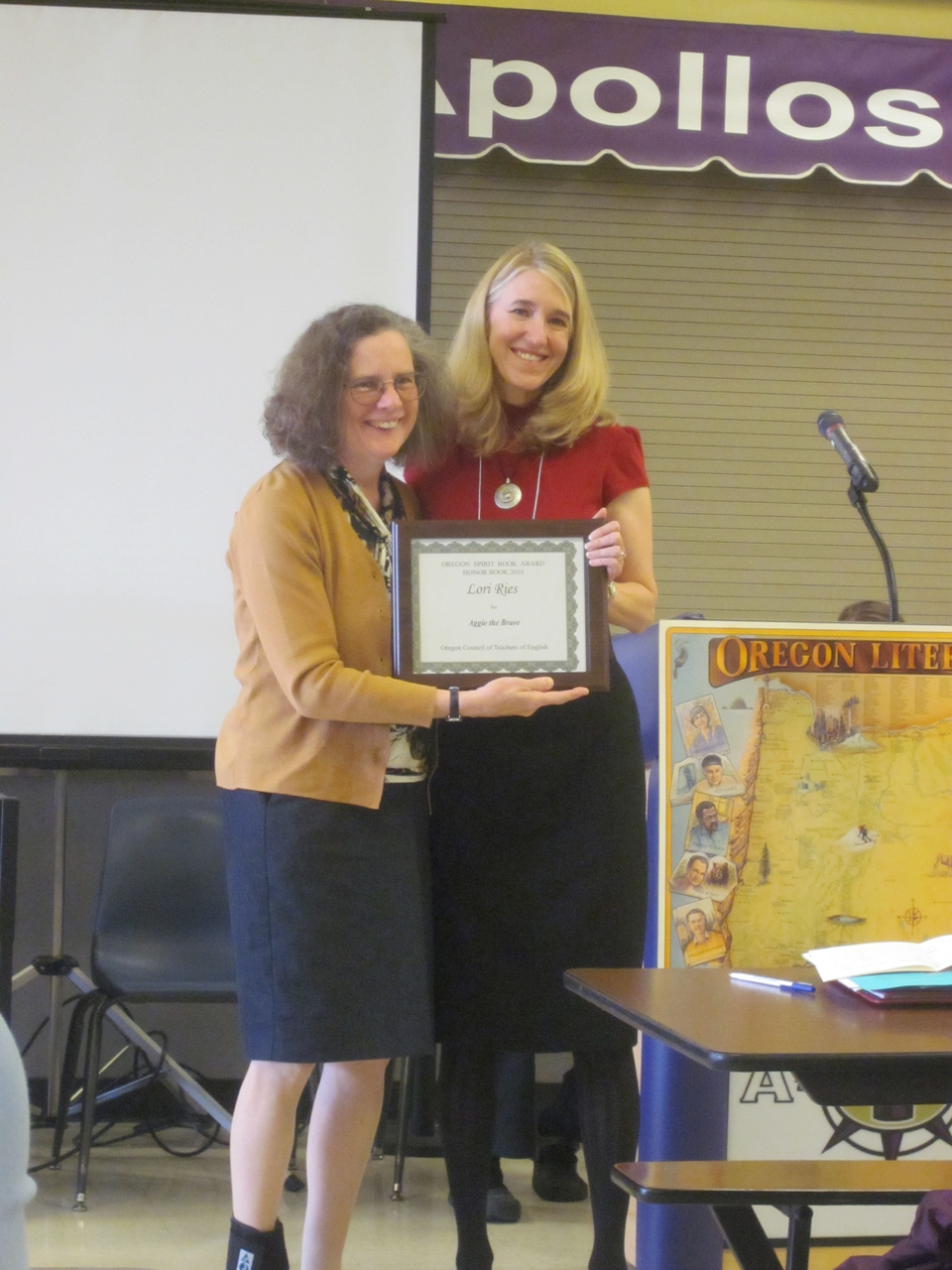 In this new tale, Aggie has to go to the vet. Will Ben be brave enough to leave Aggie overnight?
The two lovable characters are back for more reader play. Watch for details of release date!
Reviews:

Kirkus Reviews - June 15, 2001
Aggie, a small, young dog of indeterminate parentage, has an appointment to be spayed. Young Ben, who is Aggie's human companion, is concerned about her, of course, as all good pet lovers would be. Spaying: "[Ben's] mommy says this is a good thing to do. It will keep Aggie from getting sick when she gets older. And it means she won't have any puppies." This shadowy explanation is the weakest part in an otherwise charming early reader, and adults should be prepared to enlighten curious youngsters. While Aggie is at the vet's overnight, Ben worries about her and misses her. Will she be lonely, too? On her return, she wears the collar that keeps her from tearing at her stitches, and her activities are limited. But all is well when the collar comes off, and both Aggie and Ben have been brave. This book will serve well for those whose four-footed friends may have an upcoming operation. Dormer's illustrations in pen, ink and watercolors convey the action and Ben's many concerns. A realistic—and gentle—story about a common occurrence for those lucky enough to have a pet.

(Starred Review) School Library Journal - August 1, 2010
Adorable Ben and his dog are off to the vet in this installment in a charming series. It's time for Aggie to be spayed, and Ben must deal with a bit of separation anxiety and a brief change in his pet's behavior. Ries's style is clean and basic without being choppy and detached. It contains just a hint of wry humor that dovetails nicely with the characters' sometimes droll expressions. Dormer's illustrations are wonderful, evoking pathos when Ben cries in the backseat of the car on the way home after leaving Aggie, and laughter when Ben transforms her from a "lamp head" to a "lion head" by drawing a mane on her Elizabethan collar. Ries and Dormer once again prove a delightful pairing, cheerfully and tenderly persuading new readers to keep turning the page.

The Horn Book Magazine - September 30, 2010
"Aggie is going to the vet. A vet is a doctor for animals. Aggie is going to the vet to get spayed." In addition to learning useful information about animal health, readers and listeners will enjoy an extended experience with old friends in this third book about Aggie the dog and her young owner Ben. Dormer's illustrations mirror and expand Ries's text. For example, on the morning Aggie is to come home, Ben, showing an eagerness not expressed in words, is up and dressed (in a suit and tie, no less) long before his parents awake. The text admirably uses the correct term for Aggie's operation and also explains why dogs wear surgical collars. Ries displays a keen understanding of kids; for instance, Ben believes Aggie is self-conscious about her looks and thoughtfully draws a lion's mane on her "lamp shade" to make her feel better. Three chapters divide the text for newly independent readers. Smart page breaks pace the story; where emphasis is needed, only one word appears on a page, and a wordless multi-panel sequence allows readers to ponder Ben's anxiety as he awaits news from the vet. Give Ries and Dormer a Best in Show.

The Spring Book Review, Kutztown University - April 12, 2011
Ben's pet dog, Aggie, is going to the vet to be spayed. Ben is nervous for the dog but understands that the doctor will take good care of his best friend. What he didn't count on was that Aggie would be spending the night after the surgery. After a rough night, Ben happily brings Aggie home from surgery. Aggie now has to figure out how to manage with the plastic collar he needs to wear until the incision heals. Ben decides that Aggie must feel embarrassed to look like a "lamp head" so he takes his crayons and colors the collar to look like a lion's mane. Soon Aggie is healed and the two are running and playing again.
This beginner chapter book is adorable! Although sparse in text, the story is full and rich with illustrations to match. Children will be able to easily relate to the many emotions that Ben goes through while waiting for his pet to return and be ready to play. I will certainly look to add Aggie and Ben; and Good Dog, Aggie to my collection, as well.


Bookmarkable - October 17, 2010
Colorful illustrations match the basic sentences which tell the story of Aggie the dog who must go to the vet to get spayed, stay overnight and heal at home. The story teaches about the process at the vet as well as what to expect – like the stitches and cone she must wear post-surgery.
I love the way the little boy owner imagines that Aggie is not a cone head but a LION. (It's so much less embarrassing!)

Finally, the healing is done. "The vet gives her a meaty treat — a meaty treat for a brave lion. Aggie loses her mane. / She runs and jumps. She circles my legs. / We play chase till it gets dark."

For those children who own dogs, this book is sure to engage them, as well as the other children who love dogs and want a dog of their own.


Library Media Connection - January 1, 2011
Ben describes the bravery of his dog Aggie as he takes her to the vet to be spayed. Ben is confident that he and Aggie will be able to play together after the visit, but the vet tells Ben that Aggie must stay overnight for her surgery. Worried that she will be scared without him, Ben reminds Aggie to "Be brave!" The next morning, the call comes telling Ben that Aggie's surgery is over and she is ready to come home. Ben imagines everything he and Aggie will do once they are together again. Ben learns that Aggie must rest for several days before she will feel like playing again. This adorable story explores some of the rollercoaster-like emotions faced by many young pet owners when they learn that their furry friend must undergo surgery or stay overnight at the animal hospital. Feelings of worry, expectation, and confusion are replaced with caring, love, and a little bit of creativity as Ben helps Aggie recover. This chapter book for beginning readers will be a favorite among animal lovers.