Good Dog, Aggie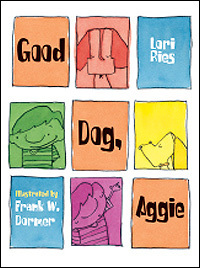 NEW REVIEW! By The Hungry Readers

Appetizer: A wonderful transition from picturebooks to early readers, Good Dog, Aggieshares the story of a young boy, Ben, and his dog, Aggie. Since Aggie doesn't listen to Ben (and actually does eat his homework despite being told no), Ben decides to take her to obedience school at the pet shop. But soon the teacher decides Aggie and the boy may be too disruptive for the class. So, it's up to Ben to train Aggie on his own.

I like the way this early reader is set up. Small pictures often break up the text, preventing young readers from becoming too frustrated by the increased amount of text.

The illustrations are childlike. Often geometric shapes are used to form the bodies and faces of the characters, serving as a guide for how kids can create their own illustrations.

Colors and senses are intermixed throughout the story. Something sounds green. Something else smells orange. I found this phrasing very interesting.

While many dog lovers will enjoy this book, I have to admit a six-year-old version of myself wouldn't find this story very interesting. But that's me. I realized from a young age that I was more of a fantasy-minded reader.


Dinner Conversation:

"Aggie is a good dog.
She runs fast.
She is a good eater.
But she does not listen."

"You are a good dog, Aggie,
but you do not obey."

"Aggie runs.
She runs under one dog.
She jumps over another dog.
Now all the dogs run. They run and bark.
The treats fly up, up up."

"Do not eat the grasshopper, Aggie."
Aggie sniffs. The grasshopper jumps.
Aggie jumps, too!
"Silly Aggie, " I say, "grasshoppers are not for you."


To Go with the Meal:

I really like that Aggie is "good" from the very beginning of the story. It's a nice reminder that a dog (or a person) is still good even though they make mistakes from time to time.

This would be an excellent early reader to share with new dog owners. Good Dog, Aggie show the process a young owner will go through to train their dog to obey. It shows how gradual and frustrating school can be. And I use the word "school" in that last sentence very intentionally. Aggie's struggles are relatable to children who may be having trouble in school. As with Aggie, this kids often need to be reminded that they're worth more than the grades they receive in class.


By Booklist

In this follow-up to Aggie and Ben (2006), everything seems to be going well between a boy and his dog, except Aggie the pooch doesn't really listen . . . at all. The final straw comes when Aggie eats Ben's homework. Off he goes to obedience school, and by the end, he becomes a pro at sitting, staying, and fetching. The strong design features subtle colors, well-used white space, and fun, somewhat abstract illustrations reminiscent of Quentin Blake and Oliver Jeffers' work. Kids will look forward to more from this endearing pair.


From Washington Parent-

This sequel to the acclaimed Aggie and Ben finds a boy and his dog at odds with one another. The rambunctious Aggie flunks out of obedience school and ignores Ben's commands in favor of chasing a squirrel, cat and grasshopper. The boy gets dog-training tips from a kindly, blind neighbor, who tells him that Aggie will learn but "it will take time." The story is especially believable in the scene that follows: Aggie acts up yet again, and Ben loses his temper. But then he apologizes and begins once more to patiently teach her to SIT and STAY. This lively book for emerging readers delivers its lessons subtly and with humor. Through pen-and-ink and watercolor illustrations, Frank Dormer brings the duo to life. He is especially skilled at portraying the gamut of Ben's emotions, from anger to shame to pride.


"Aggie is a good dog.
She runs fast.
She is a good eater.
But she does not listen."

So Ben takes Aggie to dog training school, where she causes chaos. He brings her to the park, where she chases a cat and squirrel. Ben despairs but Mr Thomas, Aggie and Ben's friend, reassures him that Aggie will learn, someday. After yet another disaster in a milliner's shop, Ben figures out what will get Aggie to listen. She is indeed a good dog.

This is a sweet easy reader filled with bright, warm pen and ink and watercolor illustrations by the wonderful Frank W. Dormer. He obviously understands dogs—providing as much expression in Aggie's eyes and ears and irrepressible tail as in the rest of her actions. The visible rapport between Ben and Aggie is lovely.

I confess, though, I was particularly fond of all the adult portraits—perfectly complementing Lori Ries's fun text. The father's face on page 15 tells you everything you need to know about what he thinks is going on in dog training class. And Mr. Thomas demonstrates his warmth and kindness in every one of his interactions with Aggie.

The text moves at a fast, entertaining pace. Ries uses judicious repetition, simple words, and plenty of action to create a story kids will want to read to the end. I definitely recommend Good Dog, Aggie for any emerging reader.



Kirkus Reviews - January 1, 2009
Chaos erupts in the canine classroom when rambunctious Aggie attends obedience training. When Aggie is expelled from dog school, Ben tries to independently teach his pet, but neighborhood distractions overwhelm the pooch. Active Aggie won't sit or stay until the boy finally pays heed to his blind neighbor'sadvice and substitutes playing fetch for rigid commands. Ben proves to be the responsible pet parent in the anticipated conclusion when he maturely announces,"You are not a bad dog. But you must learn." Slightly more complex in sentence structure and narrative than its predecessor (Aggie and Ben, 2006), this three-chapter story comically explores the budding friendship between a rowdy pet and her young owner. Dormer's exaggerated angular designs capture the frenzy in calculatedly disproportionate cartoons. Pen-and-ink and watercolors combine thin lines and bold colors to energize Aggie's antics. While undisciplined, Aggie is one lovable pup; with a slight turn of her large head and a flip of her lopsided ears, she demonstrates why dogs are known as children's best friends.