Fix It, Sam
Reviews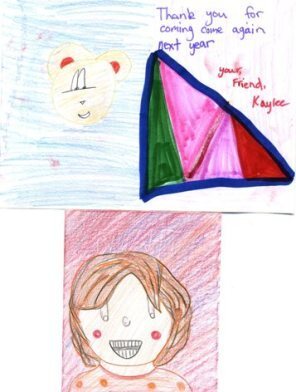 Honors/Awards

Bank Street College of Education's Best Books of the Year

The Friends Medallion 2007 Special Award
Reviews

Kirkus Reviews - January 1, 2007
Toddler Petey's hero is his brother Sam, who can fix anything, as he proves again and again in the brothers' latest outing. Petey is trying hard to build a special fort, but his desires and abilities often do not coincide. He needs help cleaning up the toys he has ransacked, replacing the pillowcase, putting the books back on the shelf and un-snagging the blanket from the top bunk. At every turn, he asks Sam for help, and though Sam's eyes may roll, he never fails to come to the rescue. Petey does his part by thanking Sam and providing encouragement. But it's Petey who finds the final solution to the sagging blanket tent, proclaiming he can fix anything. The love between the brothers and Petey's toddler enthusiasm are obvious in Rama's pencil, crayon and watercolor illustrations. The roughly drawn edges, bright colors and sometimes scribbled style suit the text's exuberance perfectly. A loving tribute to brothers everywhere; may Sam's stories continue.

Booklist - January 1, 2007
Little Petey's brother, Sam, can fix anything ("Uh-oh. Sam, help?"). But Petey finds he can fix things, too, when he learns that he is just the right size to prop up his tent ("Look what I made!"). Spare, simple text and expressive visuals portray familiar toddler activities, challenges, and sibling interactions with warmth and humor. Colorful cartoonlike artwork, created from pencil, crayon, and watercolors, includes a wordless spread showing the siblings trying different tent props. Little sibs will easily grasp the story, Petey's adoration of Sam, and the idea of problem solving as they spot familiar objects in the pictures. An affectionate companion to Super Sam! (2004).

School Library Journal - February 1, 2007
Petey thinks his older brother, Sam, can fix anything, especially the messes he makes. But when Sam can't fix the younger boy's sagging chair tent, it's Petey who is the solution–literally. The text is comprised of short and simple phrases, but it's really the illustrations that tell the story. They show Sam, complete with tool belt, as a helpful older brother clearly aware that his sibling is taking advantage of his fix-it reputation. Ramá's use of water-soluble crayon with watercolors creates colorful pictures that manage to be detailed, emotive, and childlike all at the same time. The artist captures the active nature of a toddler and the knowing looks of an older brother. Her addition of two stuffed animals that closely follow the action is a nice touch for alert readers. This story works as a read-aloud and as a beginning reader.

The Bulletin of the Center for Children's Books - May 1, 2007
Oh, the wonders of a big brother! Petey knows that Sam, with his trusty toolbelt and big-brother dexterity, can fix anything. When Petey embarks on his own construction project, Sam has a lot of fixing to do. As Petey pulls toys out of the toy box, books from the bookshelves, and a blanket from his bed to build a fort, he leaves behind a respectable wake of destruction. At each mishap, he repeats the refrain, "Uh-oh. Sam, help?" and Sam, showing only mild annoyance and the occasional angry eyes, sets things right. Of course, Petey keeps in good graces by always remember to thank or praise Sam. In the end, though, even Sam can't fix the fort, and a freshly empowered Petey comes to his own rescue. Shades of grade and lime dominate the boys' room, and friendly crayon scribbles lend depth and texture to the expressive and energetic watercolor and colored pencil drawings of the two boys, one trying to contain the chaos the other can't help making. The text is simple and repetitive enough for new readers to try out on younger sibs in attempts to encourage imitative adulation, and they can ponder the wordless problem-solving page, where the boys test different ways to make the fort stand up together.